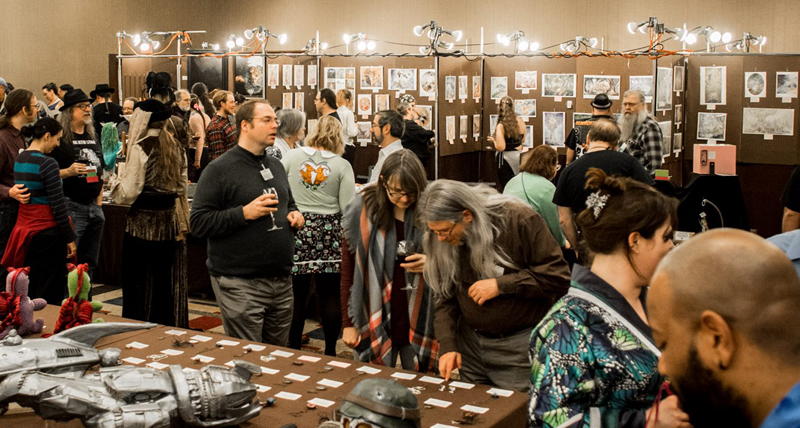 Photo by Cat Trzaskowski
Located in the Harbor Ballroom on the east side of the Westin Boston Waterfront Hotel, Arisia's art show will feature work by over 80 artists including our Artist Guest of Honor Ashe Samuels, hung salon style on 500 linear feet of portable wall space. Subject matter includes science fiction, fantasy, space, and other speculative subjects, in a wide variety of media. Most work is for sale, and prints are available of many works.
The application period for space in the Art Show is over, but we are still accepting waiting list entries.
More information about the Art Show, including sales statistics, are available on last year's website.
Art Show Hours
Thursday, January 11, 2018

8pm to 11pm: Artist Check-in

Friday, January 12

noon to 5pm: Artist Check-in
6pm to 9pm: OPEN

Saturday, January 13

10am to 6pm: OPEN
7pm-8pm: open for mobility aid users only
8pm to 10pm: OPEN

Sunday, January 14

10am to 6pm: OPEN
7pm to 9pm: Quicksale Pickup and Artist Check-out

Monday, January 15

10am to 1pm: Final Pick-up and Artist Check-out
If you are registered for the Arisia 2018 art show, please check in your pieces online.